My new novel is now available.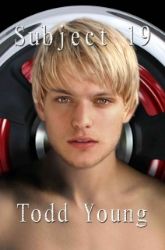 Joel is young and lonely and a little oversexed. When a thief leaves him naked at the beach, he turns to Sean, a striking, dark-haired stranger for help.

Sean offers Joel a towel, and once they get talking, he tells him all about the Umberto Institute, a medical facility where they're testing a new aphrodisiac. Sean is signed up for a three week, live-in trial.

A new aphrodisiac? It's not something Joel really needs. But when Sean tells him they're paying $4,500, he starts to think.

$4,500 and three weeks with Sean? It sounds too good to be true. But once Joel is in the institute, will he ever get out?
At Smashwords:
https://www.smashwords.com/books/view/281751
At Amazon:
http://www.amazon.com/Subject-19-ebo...rds=subject+19