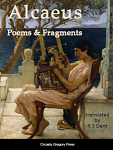 I know this forum is meant for authors to promote their own works, but Alcaeus has been dead for millenia so as I designed the ebook I thought I'd do it for him.
The Greek lyric poet, Alcaeus, was born into an aristocratic family circa 625 BCE, and lived in Mytilene, the largest city on the Greek island of Lesbos, at the same time as Sappho.
His poems and fragments are lyrical songs, most of which are monodies, written to be accompanied by the music of a lyre. Many of these poems and fragments are concerned with the politics of the time, in which Alcaeus is clearly involved. He also writes about contemporary personalities, as well as love songs, drinking songs and hymns to various gods.
"Alcaeus's nobility, conciseness and sweetness combine forcefully with his use of metaphor and his clarity." – Dionysius of Halicarnassus,
On Imitation
"His poetry smells of vine-leaves and the sea." – Peter Levi,
A History of Greek Literature
Published by
Circaidy Gregory Press
, and available for the
Kindle
and in ePub format.