[Update]: After I posted this, found more discussion regarding screen issue - e.g. waveform generator, etc. Note that this is the original screen. Not replaced. I'll continue to read through thread. But, quick link to any known solution would be appreciated.
Does anyone experienced a faded/low contrast image issue on the cover/screensaver screen?
I've made a side-to-side comparison of what I thought I should look like. Hopefully this will help illustration the issue that I'm seeing. Or is this a hardware issue?
More photos of the faded images: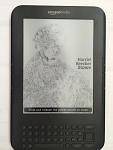 Any help would be appreciated.