The month is drawing to an end, and in honor of April Fools' Day, I'm handing out coupons for 67% OFF my poetry collection Walking Here & There, and Other Early Works, valued at $14.99 paperback, $11.99 on (Beautifully Formatted) pdf, & $9.99 on epub - GOOD FOR 4 DAYS ONLY. If you haven't already purchased the book, you won't be disappointed in its contents. There are poems of many styles and subjects, accumulating at over 120 pieces. It's a BIG book, and a great introduction to myself as a poet. If you've already purchased a copy, purchase one for friends or family. Either way, forward this message to all your poetry-loving peeps, and let's see how many copies we can get off the shelf. Remember, these coupons are only good through April 1st!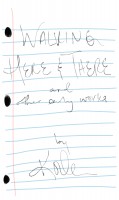 This collection of poetry and lyrics is a compilation of finished pieces, spanning over ten years. This collection includes over 120 pieces, created by Koda between 1995 and 2005. Sectioned by subject matter, and containing pieces both juvenile and profound, Walking Here & There has something for every poetry lover, young to old. Mixed Ratings G-R (ASL).
To order on paperback for only $4.95, use code ENLQCTSM at Createspace
For $3.30 EPUB, use code QX28V at Smashwords
For $3.96 PDF, CLICK HERE
After reading, if you feel up to it, PLEASE submit a review on Amazon, B&N, Smashwords, Kobo, and/or Goodreads.