Sat January 24 2015
Advertisement
Fri January 23 2015
Amazon launches eTextbook creator
10:21 AM by fjtorres in E-Book General | News
Via Fortune:
https://finance.yahoo.com/news/amazo...140000905.html
Amazon.com today announced KDP EDU, a new segment of Kindle Direct Publishing (KDP) designed to help educators and authors easily prepare, publish, and promote eTextbooks and other educational content for students to access on a broad range of devices, including Fire tablets, iPad, iPhone, Android smartphones and tablets, Mac, and PC. Educators and authors can use the public beta of Amazon's new Kindle Textbook Creator tool to easily turn PDFs of their textbooks and course materials into Kindle books. Once the book is ready, authors can upload it to KDP in just a few simple steps to reach students worldwide. Get started today at kdp.amazon.com/edu.
Books created with Kindle Textbook Creator offer features for students and other readers that enhance the learning experience, including:

Multi-Color Highlighting—Highlight and categorize key concepts for easy reference.
Notebook—Capture key passages, images and bookmarks and automatically add them to the notebook. Students can add their own notes and easily access them from one location.
Flashcards—Create flashcards and study important terms, concepts, and definitions in each chapter with a simple, easy-to-use interface.
Dictionary—Find definitions and Wikipedia information for difficult terms to improve retention.
Buy Once, Read Everywhere—Read eTextbooks on the most popular devices students use, including Fire tablets, iPad, iPhone, Android tablets and smartphones, Mac, and PC.

More at the source and Amazon.
No mention of the eink readers but with the multicolor highlighting they're obviously targetting tablets.
[ 14 replies ]
Tue January 20 2015
February 2015 Book Club Nominations
01:01 AM by WT Sharpe in Reading Recommendations | Book Clubs
MobileRead Book Club
February 2015 Nominations
Help us select the book that the MobileRead Book Club will read for February, 2015.
The nominations will run through midnight EST January 31 or until 10 books have made the list. The poll will then be posted and will remain open for five days.
Book selection category for February is:
Romance
In order for a book to be included in the poll it needs THREE NOMINATIONS (original nomination, a second and a third).
How Does This Work?
The Mobile Read Book Club (MRBC) is an informal club that requires nothing of you. Each month a book is selected by polling. On the last week of that month a discussion thread is started for the book. If you want to participate feel free. There is no need to "join" or sign up. All are welcome.
How Does a Book Get Selected?
Each book that is nominated will be listed in a poll at the end of the nomination period. The book that polls the most votes will be the official selection.
How Many Nominations Can I Make?
Each participant has 3 nominations. You can nominate a new book for consideration or nominate (second, third) one that has already been nominated by another person.
How Do I Nominate a Book?
Please just post a message with your nomination. If you are the FIRST to nominate a book, please try to provide an abstract to the book so others may consider their level of interest.
How Do I Know What Has Been Nominated?
Just follow the thread. This message will be updated with the status of the nominations as often as I can. If one is missed, please just post a message with a multi-quote of the 3 nominations and it will be added to the list ASAP.
When is the Poll?
The poll thread will open at the end of the nomination period, or once there have been 10 books with 3 nominations each. At that time a link to the initial poll thread will be posted here and this thread will be closed.
The floor is open to nominations. Please comment if you discover a nomination is not available as an ebook in your area.

Official choices with three nominations each:
(1) The fault in Our Stars by John Green
Goodreads | Amazon US / Barnes & Noble US / Google Play US / Kobo US / Overdrive UK / Overdrive US

Spoiler:
(2) The Age of Innocence by Edith Wharton
Patricia Clark Memorial Library: ePub / ePub (Complete Works) / Kindle | Feedbooks / Google Play / ManyBooks / Project Gutenberg

Spoiler:
(3) Ali and Nino: A Love Story by Kurban Said
Goodreads

Spoiler:
(4) Never Let Me Go by Kazuo Ishiguro
Amazon Australia

Spoiler:
(5) Latakia by JF Smith
Amazon Australia / SmashWords

Spoiler:
(6) Tigers and Devils by Sean Kennedy
Amazon Australia

Spoiler:
(7) Echoes by Maeve Binchy
Goodreads | Amazon UK / Amazon US / Barnes & Noble UK / Barnes & Noble US / Kobo

Spoiler:
(8) Fighting Redemption by Kate McCarthy
Goodreads

Spoiler:
(9) Jane Eyre by Charlotte Brontë
Patricia Clark Memorial Library: Kindle | Kobo

Spoiler:
[ 83 replies ]
Sat January 17 2015
Fri January 16 2015
Apple: 1 million new iBooks customers each week since iOS 8 launch
12:43 PM by Lin2412 in E-Book General | News
iBooks has averaged one million new customers every week since mid-September.

Keith Moerer, the director of iBooks at Apple, revealed that statistic in a rare public appearance at the Digital Book World conference in New York City on Thursday. It's startling to anyone who dismisses Apple as an also-ran in the ebook market and might encourage publishers and authors who haven't focused on the platform to begin doing so.
...Another difference between the iBooks and Amazon is that Apple doesn't charge publishers to promote their books on its site. "One hundred percent of our merchandising is editorially focused. We accept no co-op payments, no pay for placement," Moerer said

[ 65 replies ]
Tue January 13 2015
Amazon takes over university's textbook sales operation
03:55 PM by fjtorres in E-Book General | News
From the Boston Globe:
http://www.bostonglobe.com/business/...pOJ/story.html
The campus bookstore, a seeming anachronism in the digital age, will soon become history at the University of Massachusetts.

Starting next fall, students at the flagship Amherst campus will buy almost all textbooks from Amazon.com. The online retail giant has struck a deal with UMass to replace an on-campus "textbook annex" run by Follett Corp. with a smaller Amazon distribution center.


UMass officials hope the arrangement will save students money.

"We really recognize that textbooks and course materials are a major expense for students, and those have continued to go up over time," said Ed Blaguszewski, UMass spokesman. "This is about convenience and saving money for students."

Amazon told UMass that it could save students an average of 31 percent, or $380 annually, compared with prices at the old store.

The Amazon system will offer students access to digital textbooks and, for old-fashioned ink-and-paper texts, free one-day delivery to addresses on campus and apartments in nearby towns.

Students can also pick up texts, ordered online, at an Amazon-staffed storefront in the campus center that's set to open in June.

The company said it is negotiating similar contracts with a number of other universities and colleges.

"Many schools are feeling pressure to control the cost of education, and textbooks contribute to that," said Ripley MacDonald, Amazon's director of student programs. "Many are also seeing revenues in their bookstores flat at best, or even going backward, so they're looking at ways to stem that trend. We're trying to reinvent the bookstore experience."

More at the source.
[ 10 replies ]
Sat January 10 2015
Can E Ink Corp. Help You Build Your Own Ara eReader?
11:15 PM by Marseille in E-Book Readers | Android Devices
You may have heard of Project Ara, Google ATAP's modular phone. It went through two developer's conferences and two tech spirals last year in a surprisingly open development process. A lot of what we got to see usually happens behind closed doors. This month will be the third conference, and Google wants to sell its first devices this year, though it would be a 'limited market pilot' at first.
There are long form articles posted in the top item in this FAQ: http://www.projectara.com/faq/ Some are a bit old (fortune is the newest in August), but they all do a good job of explaining what Ara is and how it came to be. Basically you can build your own phone and pick your own processor, storage options, battery capacity, cameras and peripherals, and upgrade any one without having to upgrade the entire device. Some modules are hot swappable, so you can flip in, for example, a fully charged battery module to replace a drained one on the go (no power down needed). Screens are also modules, and thus the reason for this post.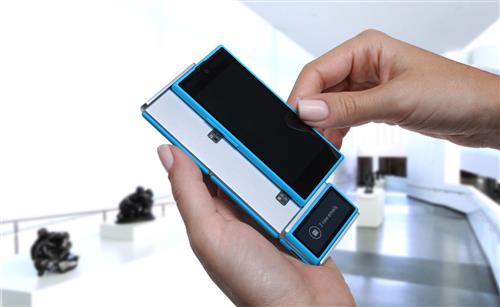 Ara probably won't succeed without market demand. Google has big partners unlike a lot of modular programs out there you might hear about. Toshiba, NVIDIA, Marvell, Rockchip, Quanta, etc are all on board, and that's important. And they've also sought to develop smaller partners worldwide with these development conferences. But I don't see marketing budgets like Samsung's or Apple's ever coming to bear here. This will be more democratic. It will succeed or fail depending on demand from users. Diversity of modules may depend on how active users are. This post is for anyone who might want to build, not just a phone, but any mobile device, to their own tastes.
As we're all readers here, I'm asking you to tweet at E Ink and ask them to support @ProjectAra so we can all build our own eReaders, independent of any one store front. So we can use our own readerware, news readers, browsers. So we can keep audiobooks, podcasts and music on board and do TTS. So we can choose a size of eReader that suits us. So we can choose our own battery capacity or make our dedicated eReader a little less dedicated and more multiuse if we so please.
If you're interested, please tweet to E Ink at https://twitter.com/EInk that you want them to make an eink screen for @ProjectAra and post below to let me know if you do. Feel free to ask questions here if you're curious about Ara.
[ 17 replies ]